Woman in the Middle | July 7, 2014
This is a multipart story. Bear with me. I swear all the pieces come together in the end.
Hubby's Mom loved to catalog shop. She just loved it. When we switched her mail to our address guess what started to appear in our mail box? Catalogs! Lots of them. For the most part we just toss them but occasionally one catches my eye…and that is when the trouble begins!
Every once in a while, when we aren't crazy busy, Hubby and I will go on a garden tour, which pop up all over So Cal in the spring. One thing I always enjoy seeing is how people incorporate interesting things like statues and gazing balls and such into their yards.
One of the things that attracted us to the house we live in now was the shop in the back yard. Hubby has lots of tools and equipment. He is a real man that way. Unfortunately, the shop is a pretty plain building. One of these days I would like to fix it up and make it more attractive. For now I am just trying to disguise it. I bought this sun to hang on the side of the shop that faces the rest of the yard.
It is way to small to do the job and I have been trying to find something ever since to replace it. But nothing has struck my fancy for a price I was willing to pay.
So here is where it all comes together! I was looking at all the pretty pictures in one of the catalogs that now clog my mail box when I came across this.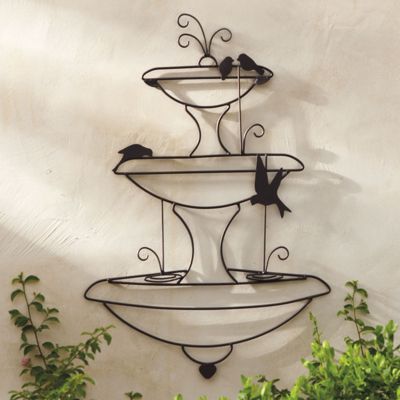 It was in the catalog from a company called Grandin Road.  I don't know what it was, but I fell in love. Hard. I liked that it was relatively large, a better size to fill that spot on the shop. I liked that it reminded me of cool water without using a single drop, which is good in this drought stricken place I live. I liked the birds. The one thing I didn't like was the price. Add shipping to that and it was a no go. Then another catalog came in from the same company and it included free shipping! I decided to splurge!
The UPS truck arrived just as I was about to leave for a meeting. Youngest Daughter and her friend had just pulled up to the house as I was taking possession of my new possession. Youngest asked what was in the big flat package. I told her it was yard art. She replied, "In other words, yart!" That is now going to be my word for all the stuff that decorates my yard – yart!
So here is my new yart, in all its glory. I can see it from my kitchen window, from the sliding glass door in the family room, or from the patio, so I will get to enjoy it quite a bit.
The sun has moved to another spot but it is still there as well.